ALASTIN Skincare® is the fastest-growing physician-dispensed skincare brand, with innovative, scientifically proven and clinically tested products. Founded in 2015, ALASTIN Skincare provides a comprehensive collection of cutting-edge products for optimal procedure results and daily skincare regimens. We strategically focus research and development on innovative products with the greatest potential impact for patients and providers.
ALASTIN Skincare is thrilled to announce our new partnership with Galderma — a leader in the dermatological space. With a shared commitment to innovation and making a positive impact in the lives of our customers, this union is a match made in skin heaven.  Together, Galderma and ALASTIN will continue providing breakthrough and high-quality products.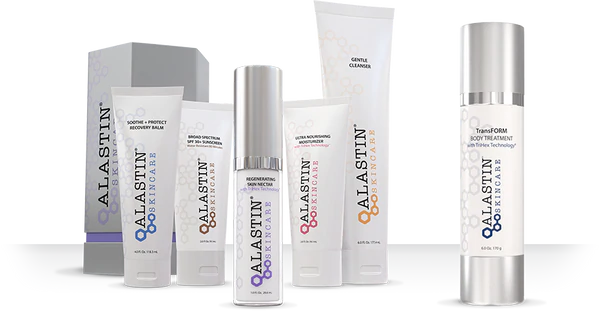 Our pre & post procedure products are specifically designed to enhance results and reduce after effects of procedures.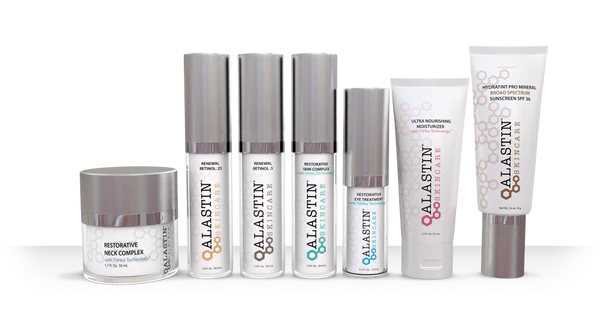 Our daily skincare products are designed to restore and renew skin to help maintain a healthy, youthful appearance.
Our Technology
TriHex Technology®️, our patented blend of active peptides and botanicals elegantly supports your skin's natural life cycle – promoting the benefits of recycling, rebuilding and replenishing the skin matrix in order to maintain a healthy glow and youthful appearance.
Our Focus
ALASTIN Skincare is dedicated to success, as a customer-focused innovator that has created a community of collaboration and partnership in order to bring the highest levels of pharmaceutical science to cosmeceutical skincare. ALASTIN Skincare is committed to exceeding provider and patient expectations for healthy radiant skin.
Our Team
The executive team brings decades of experience and expertise to develop and market scientifically proven and clinically tested products. The team is dedicated to evolving the product portfolio and developing the most efficacious products to provide optimal results for providers and patients.